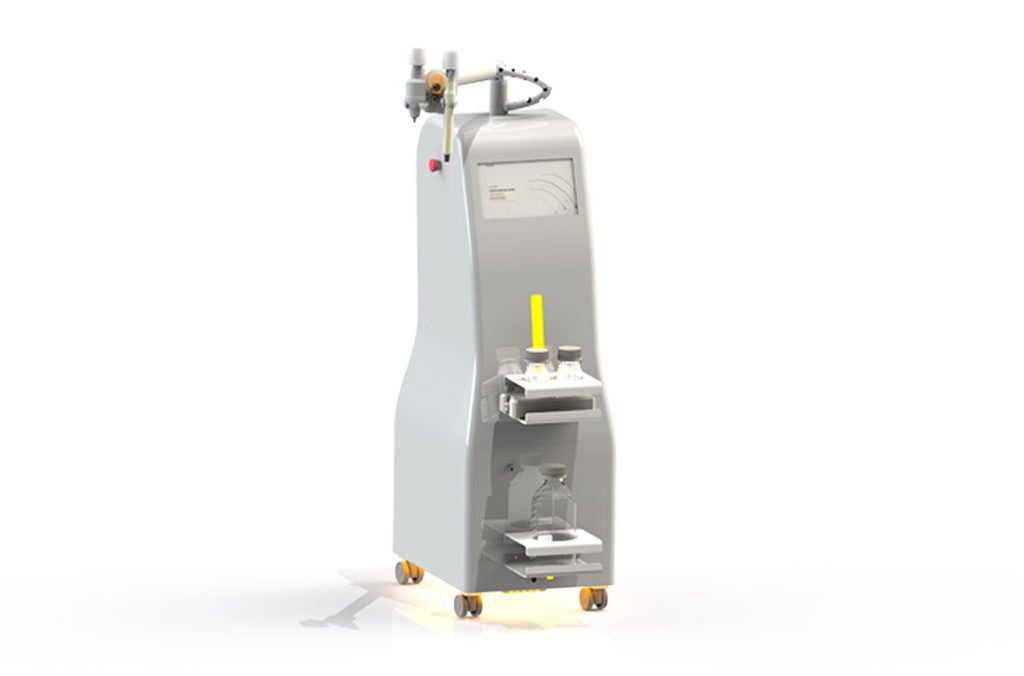 BotHair® UltraPlus,
the technology that's starting

a new era in transplants
BotHair® UltraPlus is Insparya's latest technology. This innovative, disruptive device carries out extraction of the follicular units with even higher precision: vacuuming and preservation can then be done immediately before the next step. This eliminates one of the stages in a transplant, avoiding the handling of a follicular unit, and thereby managing to reduce the risk of damaging it. This means its vitality isn't compromised, nor is its ability to produce new hair in the future – and the transplant takes less time.
We have developed an innovative solution to perform the extraction process of follicular units in fewer steps than the process currently used around the world. By using this tool, it is possible to pierce the skin surface and then detach and aspirate a follicular unit to a storage location containing a preservative solution. The tool comprises a motor that is parametrised at the optimal rotation speed to achieve the best cutting performance. The punch is attached to the motor; this is the part that penetrates the skin. As this punch is hollow, we apply suction on it in line with the motor for aspiration. This "inline" architecture enables top handling for the clinician, which benefits the working process and thus leads to better results. This architecture is an innovation in the field.
Benefits of BotHair® UltraPlus
Our own patented technology

Shorter procedure time: with BotHair® UltraPlus, the procedure takes less time by unifying different stages of the transplant: the stages of extracting and aspirating the follicular unit are combined, taking the FU directly to the preservation solution. 

Reducing damage to the FUs in the extraction. By reducing the handling of the FU, we reduce the risk of trauma and damage during the extraction stage.

A higher survival rate of hair follicles. Reducing handling means a better volume of valid FUs and better quality of those extracted. 

An automatic process that's more comfortable for the team: this improves quality and the transplant conditions for our medical team, therefore reducing the number of movements from 4,000 to 160 on average while also preventing injuries.

An automated process with less risk of error. By reducing the number of movements made by the medical team, there's less risk of error in carrying out the transplant.
An innovative tool with Insparya's seal of approval
The entire device was created for and by Insparya: from the weights to the micro-punch used for extracting follicular units, as well as the software used. Thanks to this, we can personalise the working technique to achieve the best results for each patient.
Patents
US Patent No. US 10449033 Patent in Brazil No. BR 112015030034-0 Patent in Europe No. EP 3017783 Patent in Portugal No. PT 106977 National Patent Application No. 117603 – INCONTROL National Patent Application No. 2022/12626 – EXTRACTION TOOL